Talk about a crazy messed up weekend!! My hubby came home and surprised me so I had him here all weekend wanting every minute of my time.....we had a showing (2hrs of panic before trying to get the house perfect)....I had a dream my best friend was sad and depressed and I couldn't help him and I felt him die (woke up to missed calls and texts from him freaking out because he needed me).....my oldest son quit his job and is going back with my hubby Mike to work with him (so now I'm losing both of them to travel)....my new pair of Jewel Cichlids mated and laid 300 eggs......Ayla is needing me constantly (she's uncomfortable, whiney and the puppies are moving alot and it bothers her).......and I think my cat is pregnant now. :( We are all goin to the vet when this is all over to get clipped, tied and do whatever they do.
And to top it all off, my middle son, his gf, her little sister and his gf's parents were riding in their Expedition on Hwy 94E in Minneapolis on Friday night when a decked out honda came up beside them. My son said it was a very cool car so he was looking out the window admiring it. The honda got off the exit, rolled down the window and SHOT TWICE AT THEM!!!!! Oh my God!!!!!! It blew out the window where little 13 yr old Cassie was sitting. They were crying and screaming and pulled over and called the police. I don't know how, but no one was hurt. I'm so thankful and I keep hugging my son....how crazy is this??? So now what?? You can't look at anyone's car on the highway anymore??? We have to ride with our eyes straight forward for fear someone will shoot at us? WTH!!! He was able to give a good description to the police but didn't have the licence plate number, it all just happened so fast.
So here I am on Monday morning with a weekend craziness hangover...the sun is shining its warm and I'm ready to face the week. I think i'll share a recipe lol Here is a great egg bake that my family just loves: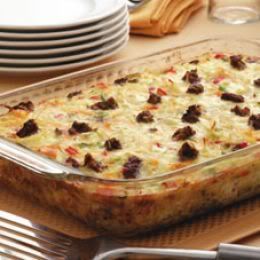 Overnight Egg Bake:
Ingredients:
•6 slices bread, crusts removed
•4 tablespoons butter
•1 1/2 cups shredded Cheddar cheese
•5 eggs, beaten well
•2 cups half and half
•1 pound hot sausage
•1 teaspoon salt
Preparation:
Cook sausage until no longer pink; drain well. Melt butter in 9x13-inch baking dish. Tear bread into pieces and sprinkle over butter. Sprinkle drained sausage, cooked well done, over bread crumbs. Sprinkle cheese over sausage. Beat eggs with half and half and salt; pour over mixture. Cover and chill 8 hours or overnight. Bake at 350° for 45 to 50 minutes, or until set. Serve with muffins or sweet rolls and cut-up mixed fruit.