I'm particpating in Letter of Intent Friday today with Julie at Foursons. I love this idea!! Head on over to her bloghouse and grab her button and link up, this is a great way to say something to a person, place or thing, good or bad. lol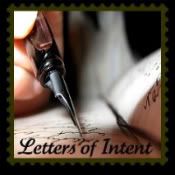 Dear Mesenbourg Children:

First of all and foremost I want to say that I love you. I love you all with my very heart and soul and will always love you until the day I die....however....i have some things I need to say to you....

You are all grown now, well according to your ages you are. Yet, you have not moved out (well in and out and in and out and in out) and you are not using the wonderful motherly advice i've given you SINCE YOU WERE 5!!!!

Mikey~You are 23 years old! You lost your drivers license because you thought it would be so much cooler to drive like an idiot then drive with no insurance then miss your court date. You are gorgeous, talented and the nicest person I know, everyone just loves you. Yet you go through your life without a care in the world, taking one day at a time. The world is not like that...you have to care about your future...you have to have plans and directions and goals. Play your guitar, you are amazing with it but get your butt into college, pay your fines off and get your license back, fix your relationship with emmy...she loves you, and get your shit together!!

Jorden~You are 21, officially an adult. Yet your quit your job because you had "worked there long enough", lost your drivers license because you didn't pay a seatbelt fine, lost Savannah because she wants you to get your act together and I'M SICK AND TIRED OF GIVING YOU RIDES!!! And now you just lost your brand new job because you didn't rennew your license when you turned 21 in AUGUST! We offered to pay to renew it, then you couldn't pass the eye test because you BROKE the glasses we bought for you and never BOTHERED to take them in and fix them, it was better to just throw them away huh?? Play your drums, by all means stay with your band, but get it together my son. Life is too short and before you know it, you will be 40 and still in the same situation. You have to have a job until your band "makes it", you have to support yourself, you need to have a license and a car and money and direction. We wrote down a plan, READ IT!!!

This is my favorite song from my son Jorden's band (Model43), Jorden is the drummer. The name of the song is Breathe:



Mollee~My only daughter, the one that has made me the most "proud", the one that has won the family award for most court dates, most hospitals stays, most drama, most mistakes and the most forgiveness from us. Enough is enough!! Time is up!! I see you are trying, but I've seen it before, I keep waiting for another explosion to happen, another accident, another crisis, another bottle of pills. You have to want to help yourself and I think you do finally. I love you so much and you've hurt me so badly, I've forgiven you for it all but I can never forget. And now you are about to lose your license from a DUI, which I might add you got 2 hours after your dad talked to you about drinking and driving!!!!! Get into cosmotology...you've talked about it your whole life, you are so good with hair and I know you would be successful. My patience are gone and you have sucked me dry.

Jon~My youngest....my bug man. You are 18 almost 19 and you are a super senior heading for a double super senior. What is your problem!! An education is a privledge and your right as an American citizen. It is a necessity to survive in this world. You were given an opportunity by being accepted at the ALC!! You are blowing it kid! You only have to go to school 3 hours a day and you get a week off every 6 weeks!! Yet it's just too hard on you to get up for school in the morning and now you've quit your job and are losing those school hours too!!!! You are also talented...play your guitar...become famous...buy me a mansion and a mazaratti, but GRADUATE FROM HIGH SCHOOL FIRST!!!!

The gravy train has gone off it's tracks my dear children. I'm tired...I'm worn out and I'm used up. I've spent my life being there for you, teaching you, guiding you, helping you, raising you, looking at the stretch marks you gave me, covering up the gray hairs you gave me, years of sleepless nights (from midnight feedings at 2 months to midnight worrying when you aren't home yet). AND THIS IS HOW YOU TURN OUT!?! GET IT TOGETHER OR ELSE!

Love,

your mom

Hey! This was fun...I feel better now. lol And yet I'm still smiling, but its the smile of an insane person!!